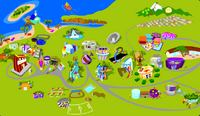 Beach North
Beach South
Beach Waterfall
Bioplex
Cafeteria
CDC
Checkers
Chinese Checkers
City Hall
Dr. Leila's
Dance Studio
Fit Zone
Food Court
Getty Museum
Girl Game Co.
Grandma's
Greek Theater
Ice Pond
Illusion House
Kajeet Chat Factor
Kalah
Kinematic Attic
Mall
Myville
Newbie Center
Nutrition Center
Plane Works
Poll Booth
Pool Party
Scion Pit Stop
Sector Y
Simon Says
Skyscout
Smart Cars Arena
Snowboard Mountain
SOMA Studio
Spin Lab
Spin Speak
Sportplatz
Sun Roof
Sun Spot
Taxicab
Tic Tac Toe
Tiki Tours
Trading Post
Warp Wagon Destinations
WASA
WhOI
Why House
Ad blocker interference detected!
Wikia is a free-to-use site that makes money from advertising. We have a modified experience for viewers using ad blockers

Wikia is not accessible if you've made further modifications. Remove the custom ad blocker rule(s) and the page will load as expected.