Whyville Wiki
Created By:
Bill and Zach
Opening Date:
February 1, 2008
Host:
Wikia
Old Version:
whyvillians.wetpaint.com
Revisions:
4
Welcome to the Whyville Wiki, the only wiki about Whyville on the web. This wiki covers everything from City Workers to Salary Games. As you will read below, the Whyville Wiki went through many changes to get where it is today. Keep Reading!
Timeline
February 2008

The Whyville Wiki opens to the public on new host Wikia
The first theme and pages emerge

May 2008

After ignoring the Wiki for months, the creators come back to try to fix it up.
New articles are being added again for public use.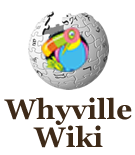 Ad blocker interference detected!
Wikia is a free-to-use site that makes money from advertising. We have a modified experience for viewers using ad blockers

Wikia is not accessible if you've made further modifications. Remove the custom ad blocker rule(s) and the page will load as expected.